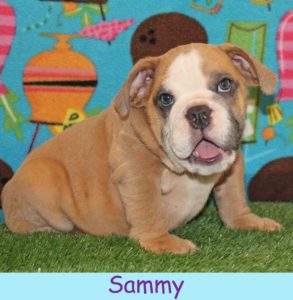 All Sugarplum Bulldogs puppies are from multi-champion AKC registered English Bulldog stock only and our pups are the real thing: adorable, short, wrinkly little butterballs of
English bulldog cuddliness except they mature at 25-55 lbs.
call

Morgan

at 703-507-1996
all Sugarplums are

$2500.00 + $150 VA sales tax
except for FANCIES which are priced individually
 *****
all credit cards are accepted
*****
 PUPPIES, PUPPIES, PUPPIES…its the Summer of the Sugarplums!
OPEN HOUSE hours throughout the summer:

weekdays from 3-8

&

weekends from 10-8

on both Sat & Sun…no appointment or deposit needed, just come on out to play.
Sugarplum Farm is at 17281 Simmons Road in Purcellville  VA…for weekday early appointments contact Morgan: 703-507-1996 or morgan@sugarplumbulldogs.com 
Don't call me for the teeny-tiny cross-bred mini.  I love the English bulldog temperament, physique and expression, I just personally like it to be about 30-40 lbs. worth.  Keeping in mind that most of the bulldogs that the public is used to seeing are 60+ lbs, I feel that many of the health issues that are endemic to the breed become less prevalent as the dog's size goes down.  I find the smaller sizes are more buoyant and playful and, though still very heat sensitive, are better able to cope with life in general. Downsizing an AKC breed takes time.  My girls all come from long lines of 30-45 lb. bulldogs and are expected to be on the low end of that scale or sometimes even smaller. I'm not trying for 20 pounders…my goal is to have healthy, beautiful babies that consistently mature at 30-40 lbs. and still have the short, cobby, wrinkled and sweet old- fashioned English bulldog look and personality..any that end up under 30lbs. I consider a bonus! In order to provide for my AKC & state licenced Sugarplum Bulldogs puppy viewing program here in Virginia, I am honored to be in partnership with a wonderful woman who has 35 years of bulldog centric experience and whom I consider to be the top breeder of smaller sized English Bulldogs.  Rather than trying to "re- invent the wheel" here in Virginia, I have opted to co-own her kennel in the mid-west and have her there managing my breeding & whelping program exclusively…I own or co-own all of the bulldogs at our AKC and State registered & inspected facilities there. I believe that this business model allows the both of us to carry on with what we are best at:  she and her staff have all the hard work of managing and caring for 70+ adult dogs, along with the delicate business of whelping and caring for the newborns up until they are 8 weeks of age…and I get to bring a pile full of my healthy Sugarplum puppies to my farm in Purcellville, Virginia and play with them.  All this in order to provide easy viewing & playing access for Northern Virginia, D.C. and Maryland residents Call Morgan at 703-507-1996 or e-mail morgan@sugarplumbulldogs.com & we'll chat about what you are looking for…if you don't reach me, please leave a message & I will return your call within the day.
Beware the internet mini Bulldog scams…they really are out there in force.  I fell for a sophisticated one myself and lost a $500 deposit to a bait & switch ploy…even though I used PayPal for the money transfer!  I highly recommend that you reconsider before you purchase a puppy sight unseen, these are expensive puppies and will be with you for a long time…make sure you get what you really want!